This post was updated 13th July 2020 to include 'Getting ready to take needs assessment online' video and transcript.
For students entitled to Disabled Students Allowance (DSA), or similar support, an expert needs assessment is an essential part of the process. A needs assessment is a student-centred process where recommendations for adjustments, support strategies and assistive technology are tailored to a student's unique profile.
With the impact of lockdown meaning that a face-to-face needs assessment is not possible – plus uncertainty around how long assessment centres may remain closed – some centres are considering moving their services online. Three practitioners experienced in providing a remote needs assessment service share what they've learned.
Not 'needs assessment-lite'
Mark Ross, Disability Support Co-ordinator at the University of the Highlands and Islands (UHI) emphasises that technologically-mediated needs assessment need not be a 'light' or diluted option.
"At UHI our use of technologies is integral to learning, teaching and student support," says Mark, "Our ability to deliver needs assessments online (where appropriate) enables us to provide equivalence of the student experience. We apply the same quality criteria regardless of how a needs assessment is delivered."
It's not necessary for UHI students to undergo a full needs assessment in a one-off meeting. Needs assessors have the flexibility to deliver the assessment process at a pace suitable for the student, over several sessions if appropriate.
Originally introduced to help address the logistical challenges of providing face-to-face assessments to students living in remote and rural areas of the UHI region, the approach has provided many added benefits over the years, primarily speeding up the process and ensuring students had access to crucial support and technology earlier in their course. This efficiency has helped to reduce the likelihood of students withdrawing due to frustrations with studying.
Another benefit noted by assessors is that the remote option means students with mobility difficulties and serious health conditions are not disadvantaged by having to make long journeys to an assessment centre.
Preparation is paramount
Mark has worked with UHI student support practitioners – mainly through the university's Inclusive Practitioners Network – to develop and refine staff guidance on how to assess online. Guidance covers the roles of staff involved and practical elements such as how to demonstrate assistive technology.
Supporting assessors with detailed guidance is an approach encouraged by College Development Network's Carol Boyle, who co-ordinates a unique degree-level course for needs assessors and inclusiveness practitioners. Having offered remote DSA needs assessments for some years, Carol shares her six golden rules for success:
Don't overcomplicate things. The student will know what tools they'll use to meet you online. It will be easier for them and you to use what they are already familiar with. Have guidance prepared that will support the student to use the preferred platform. The student must feel comfortable and confident with what is agreed if they are to have a positive experience.
Have a clear agenda. It is important to establish the student's understanding of the needs assessment process and explain what your role is, so that they can ask relevant questions. Reassurance about confidentiality and timelines – from assessment to receiving funding – need to be explained and discussed.
Prepare your system in advance. Have you received information about the student's needs? Check your volume, microphone, camera and network connection. Whether you demonstrate the technology during the first meeting, or agree to do this at a later date, always have a Plan B.
Minimize distractions. Distractions can cause miscommunication and frustrate you and the student if you are interrupted. If using a camera have a clear background. Depending on the platform chosen for the meeting, it may be better to use headphones instead of your computer's built-in speakers and mic.
Continuity. There should be no difference in recommendations whether you meet the student in person or online. For example, if they require ergonomic furniture you should still arrange for an assessment of their physical needs.
Conclusion. Conclude with a summary of what has been discussed and agreed so far so that the student is clear about next steps. This is essential so that the student can ask questions, seek clarity and contact you if they have questions afterwards as often, they do once they have had a chance to process all the information given.
Listening to students
For Bethany Winkler, Student Experience Manager: Access Centre at Edinburgh College, positive student feedback tells its own story.
"We decided to move solely online prior to the closing of all colleges in Scotland due to Covid-19. We wanted to ensure our students felt safe during their needs assessments and considering many of our students identified as vulnerable, it was important to take this into account early on."
"Since moving online, we have had a great response regarding this change in delivery. In a recent survey of students who had completed a needs assessment with our team, when asked if they would recommend being assessed online to other students, 96.5% said yes."
A key theme was how much students appreciated not being required to travel for their assessment, demonstrating that online assessments are much more accessible for many.
Reflecting on the rapid period of change, Beth says, "As manager of the Access Centre, I'm impressed with how quickly the team adapted to this change in delivery. 100% of the students answered yes when asked, 'Was the purpose of the online needs assessment explained fully to you?' With an additional 90% of students stating there were no improvements required to the processes implemented for our online assessments."
How about the remaining 10%, what negative experiences did students report? Beth tells us, "The remaining 10% commented on issues regarding internet speed or external concerns not related to needs assessments, such as teaching staff. Although I am sure we can improve our system over time, as nothing is ever perfect – I do think we are off to a good start. The idea behind a needs assessment is to facilitate processes that minimise barriers, whilst providing our students with the tools required to be successful in their studies alongside their peers. If traveling for a face to face assessment is any way a barrier, I want to ensure that from step one, we are creating a system that makes our students feel supported. I am sure that when we return to college, we will be continuing to assess online."
A 21st century solution for the 21st century student
Mark, Carol and Bethany have all found that far from being a temporary solution in a crisis, being able to offer students online needs assessments enhances the student experience. Carol sums up the three main benefits to students and practitioners.
Online needs assessment is about giving choice to the student, which is empowering and motivates them to participate. Students are much more likely to take up the option of discussing their needs if they can choose when, where and how.
Attendance, rescheduling and time is easier to manage, and the needs assessor's availability is increased.
Why, when many courses are delivered using technology, do we not embrace the reach of online communication to provide a service?
Next steps
While these practitioners' innovations mean they are comfortable with the move to providing fully online services, they flag issues arising due to the impact of delays to SpLD diagnoses, which many students require in order to apply for DSA.
Practitioners are actively discussing solutions, but it's proving a complex issue to resolve and may see colleges and universities needing to work creatively to support students come the new academic year. Mark notes, "The potential bottleneck caused by the lack of online SpLD assessments has been highlighted as an issue by our disability practitioners. It's good to see this being discussed."
It's also important to embed support strategies and technologies that will be relevant should students who would normally study on campus, begin their courses online in the new session.
Continuing the conversation
Watch Jisc's Kellie Mote in conversation with Mark Ross, Carol Boyle and Bethany Winkler, recorded for Getting AT Ready 2020. Transcript for Getting ready to take needs assessments online video.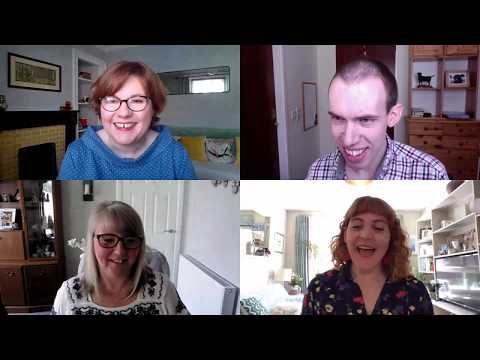 Credits
Photo by Frank Romero on Unsplash